Company Overview – Evixar Inc.
Deep-Tech Expert in Innovative Acoustic Technologies with various solution services.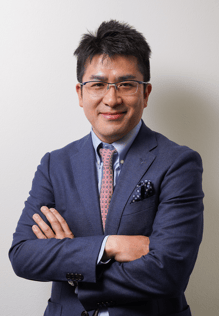 We Evixar are the engineer groups who work in research and development in the acoustic engineering field.

We provide an Automatic Content Recognition technology "Evixar ACR" that identifies and analyzes sound content.
It offers ACR technology and systems are provided in a software development kit form that provides access to a library of software that helps the users to develop content recognition applications and utilities. Our technology is applied second screen services, interactive TV systems, broadcast monitoring, subtitle casting, audience measurement, copyright filtering.

And we provide an Acoustic Communication solution "Another Track(R)" that is acoustic communication technology making use of "watermark" audio signals in a frequency range inaudible to the human ear. Emanating from speakers in stadiums, theaters and other such venues, these signals are recognized by smart devices, such as smartphones or wearables. They control the output of the multi-language text or AR display on the devices, timed to the progress of the play or other event taking place in the venue.
The text or AR display occurs within 0.1 seconds, enabling real-time distribution in theaters or other live venues. Since data can be delivered even in an environment lacking electric waves, or to devices in airplane mode, and without the need for special audio equipment, the technology is readily implemented in theaters. Adding, our technologies have been successfully applied to television, motion pictures, theaters, and disaster prevention/mitigation, among other fields.
Another Track(R)" is a proprietary acoustic communication solution developed by Evixar and is comprised of several patents, both granted and pending.
PRESS RELEASE: Evixar Obtains Patent for Subtitle Guide for Theater and Performing Arts in U.S. and Korea – Patent acquired following U.S.-China patent for audio and subtitle guides for movie theaters, driving the development of international de facto standards, July 20, 2022
---
HELLO! MOVIE – The De Facto Standard in the Japanese Theatrical Market –

In 2015, the PoC (Proof of Concept) project to study the ideal viewing environment for low vision and hearing-impaired audiences at the movie theatres was launched. The PoC was funded and conducted by the various Japanese government ministries (the Ministry of Economy, Trade and Industry among others) along with the major theatrical distributors.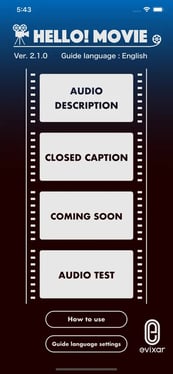 In the study, the following technical requirements were identified:
– The app must work properly in any movie theatre environment across the nation "as is" (meaning with no investment of any additional infrastructure, equipment, staffing, etc.)
– The system must work with consumer smartphones.
– The app must be user-friendly.
– The app must function properly when the smartphones are in airplane mode, with all signal transmissions disabled (not capable to receive calls or text messages)
The parties involved in the study found Evixar's technology (acoustic synchronization system) met their published criteria and in 2020, the commercial use of Evixar's app HELLO! MOVIE began. The app has become the only format in the country and is now a de facto standard of accessibility devices.
Today, all major film distributors in Japan (Shochiku, Toho, Toei and Kadokawa) as well as the nation's trade associations, such as MPAJ (equivalent of MPAA) and NATO-JAPAN have adopted Evixar's HELLO! MOVIE app (coupled with special caption projection glasses) as their official device for low vision and hearing-impaired audiences. As for Hollywood studios, Warner Brothers and Sony Pictures have adopted Evixar's system for the titles acquired in Japan.
We are now applying HELLO! MOVIE to the global market, as the new standard for visual and hearing accessibility experience.
PRESS RELEASE: Patent Obtained for Audio Guide and Subtitle Guide for Movie Theaters in U.S. and China, Becoming the International De Facto Standard, February 14, 2022
User Report: "If a visually impaired person watches horror movies?"
Development Story: "Early adopters were handicapped people. What is the world of Evixar, the development company of "HELLO! MOVIE", trying to create with its own technology?"
---
Why dig deeper into the "Acoustic Technology"?
Why do we delve into the field of "Acoustic"? It is because no matter how much time passes, Acoustic always is a part of our five senses, and that it is our social mission to develop technology in the field of acoustics and uncover the needs for better use of "Acoustic Tech".
NOTICE: Announcement of CI Renewal, August 10, 2023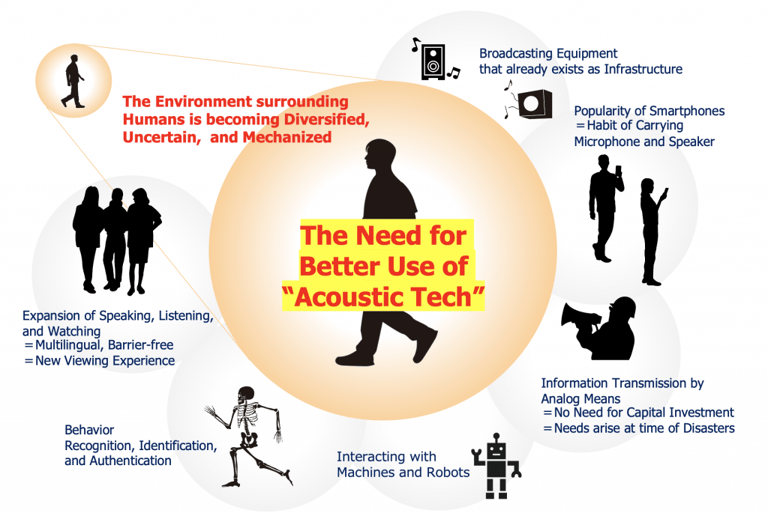 ---
Evixar Inc. - Company Data
( as of February 13, 2023 )
Company Name
Evixar Inc.
艾菲克澤 股份有限公司
Capital
JPY613.600 million ( including Capital Reserve of JPY276.800 million )
Board, Officers
| | |
| --- | --- |
| Chairman of the Board, Director, CEO | Atsushi TAKIGAWA |
| Director, COO | Hisaharu SUZUKI, Ph.D. |
| External Director, Audit and Supervisory Committee Member *1 | Koji HAYASHI |
| External Director, Audit and Supervisory Committee Member *2 | Shigeki MAYA |
| External Director, Audit and Supervisory Committee Member | Masaki ITO |
| CTO | Kazunori TOKUNAGA |
| CRO | Yasuhiko NAGATOMO |
| CFO | Shinjiro WATANABE |
*1 Certified Public Accountant and Certified Public Tax Accountant
*2 Attorney at law
Establishment
March 12, 2004
Headquarters
1F Matsui Bldg., 1-17-22 Shinkawa, Chuo-ku, Tokyo 104-0033, JAPAN
Business
R&D and Sales of ACR ( Automatic Content Recognition ) Technology, such as Audio Fingerprint, Audio Watermark
R&D and Sales of Acoustic Communication and Sensing, Bioacoustic Sensing
Stock Listing
Tokyo Stock Exchange
TOKYO PRO Market, Securities Code: 4257
Company Type
Company with Audit and Supervisory Committee